The number and diversity of exciting, fancy co-working spaces are globally exploding these years. MatchOffice News has found 10 spectacular options of top trendy and flashy co-working workstations around the world.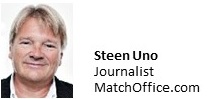 The diversity of most attractive, spectacular co-working options keeps growing enormously. The German workspace magazine Deskmag.com estimated earlier this year that the number of co-working spaces worldwide will be more than doubled - from 5,500 in 2014 to almost 14,000 - by the end of 2017.
This impressive rate of growth is primarily caused by the increasing share of business freelancers and project workers, as well as other fixed-term ad hoc recruitment.
Advantages such as greater flexibility, cost-effectiveness and social synergies attract still more entrepreneurs and other smaller companies to downgrade common office leases in favor of new, modern co-working workstations.
The co-working concept shows the paths to inspiring work and network environments- Innovative companies lease much more than an office space - they also focus on a collaborative environment and a social community.

Co-working in 10 ways
Match Office News found 10 interesting, colorful and creative options of co-working workspaces, which in different corners of the world distinctly stand out from your traditional office workplace:
12,000 fabulous café and coworking square feet decorated under the former Royal Bank's breathtaking vaults in Montreal's Old Town - with design chandeliers, marble and bronze all over the place.
It costs from $30 per day to work in Crew Collective. Included are discounts at the café, access to social and cultural events and a networking community with creative designers, developers etc..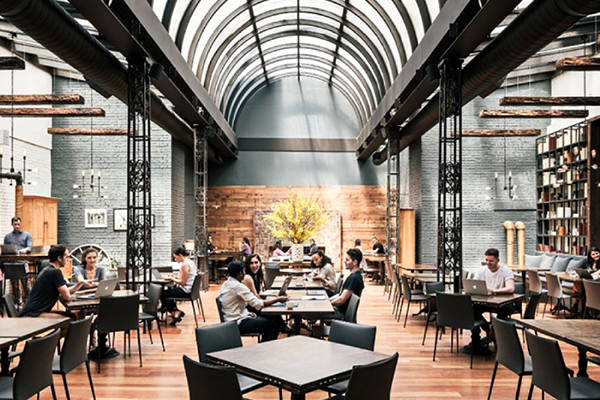 In the evening a hot restaurant on Manhattan's Upper West Side, from 8.30 in the morning until 5 p.m. the N.Y.-based entrepreneur-team turns the spacious eatery's fashionable facilities into coworking spaces.
A guest card costs $6 per hour or $29 per day, a Spacious Partner membership of $95 per month offers free coffee, tea and access to Spacious's 14 co-working spaces/restaurants in central New York.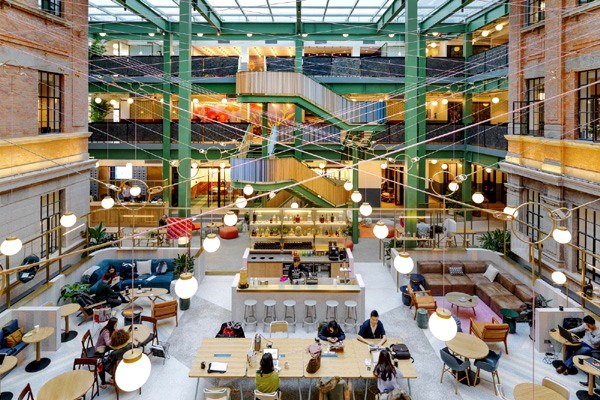 London-inspired palace building from the early 1900s, which previously housed 40 artist workshops and galleries. Today the building has been updated to workspaces for artists, entrepreneurs, designers, start-up companies etc..
Workstations cost from approx. $350 per month, a private one person office from $575. In addition to WeWork normal service facilities - conference rooms, cafés, telephone cabins and more - the venue hosts and arranges weekly events.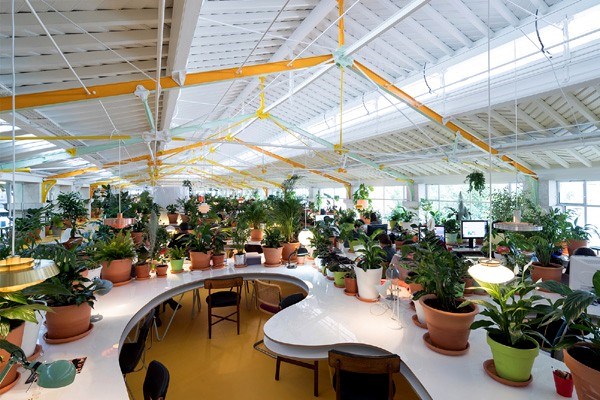 Under the same roof as Lisbon's oldest food market, Mercado da Ribeira, the Spanish SelgasCano architects have decorated the city's most creative co-working option with 1,000 green plants and a number of facilities for the site's 250 users.
Second Home launched last summer's Summer Workation pass for foreign visitors at 130€ - a monthly membership starts at 200€ and gives you access to all common facilities of the fabulous green house.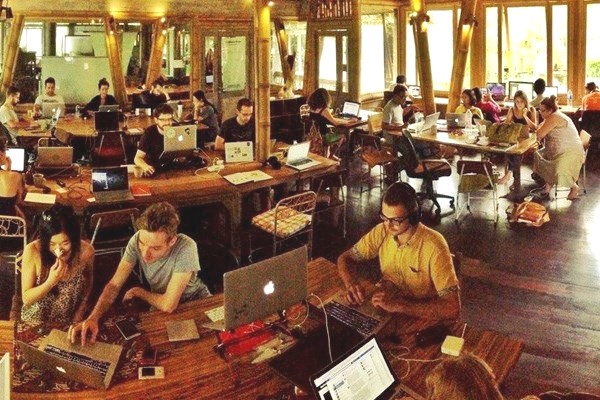 Hubud, Ubud, Bali
Decorated with bamboo and views of green rice fields, a nature café and a variety of social events and events Bali's first co-working space has qualified for Lonelyplanet's Top 10 places you simply have to try to work from.
It costs from $20 per day to settle down at the most exotic workstations with wifi, 24-hour access on weekdays, air conditioning, meeting rooms, discounted partner spots in Bali as well as access to collaboration spaces in more than 40 cities around the world.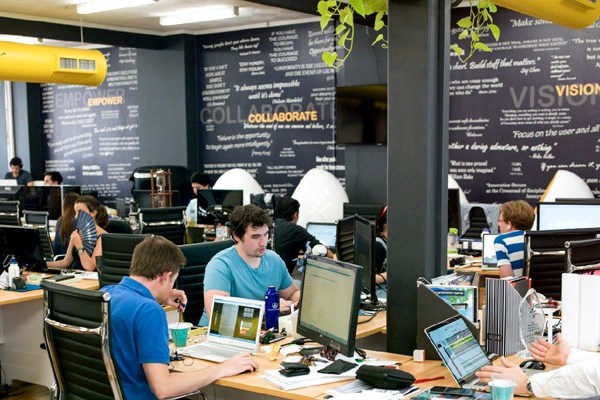 Australia's largest co-working space opened by the non-profit organization Fishburners attracts mentors, investors, service providers, startups etc. who have access to social events, workshops, and other activities.
Fishburners opened another workspace in Sydney last year and has also venues in Brisbane and Shanghai. Sydney City offers memberships for $350 and $450 per month.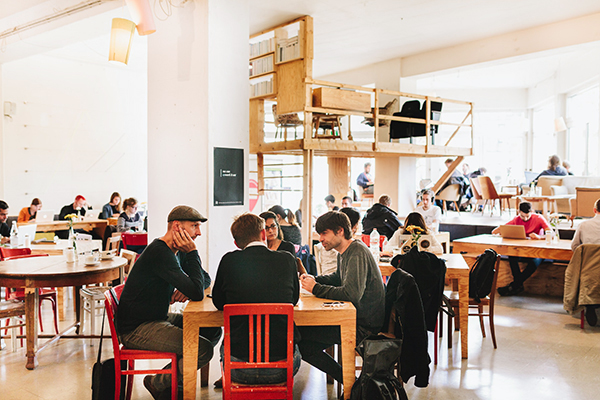 In relaxed, creative atmosphere, spread over 5,000 sqm and five floors, and centrally located, Berlin Betahaus provides work stations, office spaces, meeting and event rooms of all sizes, a hardware lab and a café.
A day pass costs 15€, a Club membership 99€ per month, and a Professional Monthly card with 24/7 access and a number of other services costs 200€.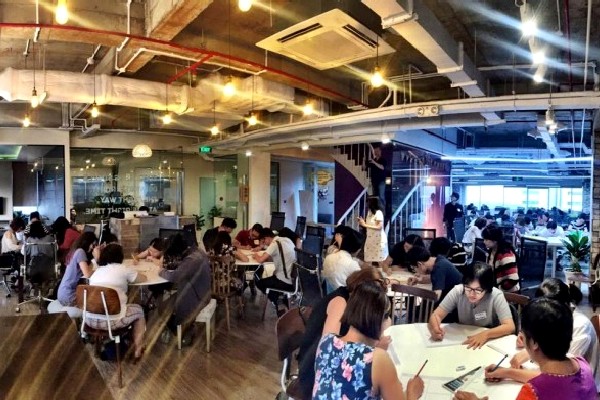 DreamPlex, Ho Chi Minh City, Vietnam
With its beautifully decorated workplace in the heart of District 1 the two years old DreamPlex has gained enormous popularity and status as the city's best - especially after President Barack Obama's prestigious visit in 2016.
A day pass costs $7, a weekbook $26, one-month subscription is $86, and $150 - for your own office space. Smaller companies are able to lease their own multi-user room for $860 per month.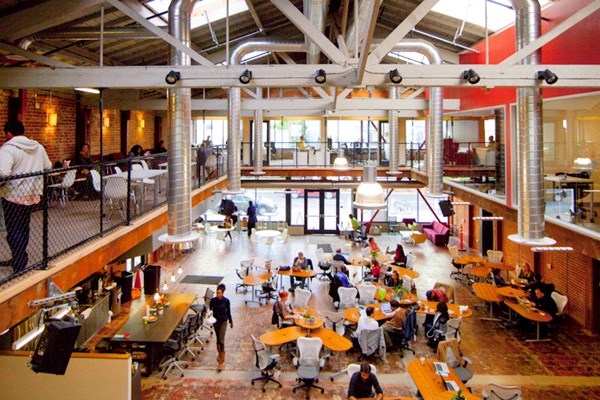 Impact Hub, Oakland, Californien
1,500 sqm large workspace in the heart of Oakland with plenty of space for both small talk and contemplation. The facilities are very often used for exhibitions of the neighboring gallery under the same roof.
Half- and full-day passes to a workstation cost $10 and $20 respectively, an individual membership on a monthly basis costs from $50 for 10 hours use, and up to $295 for 100 hours co-working.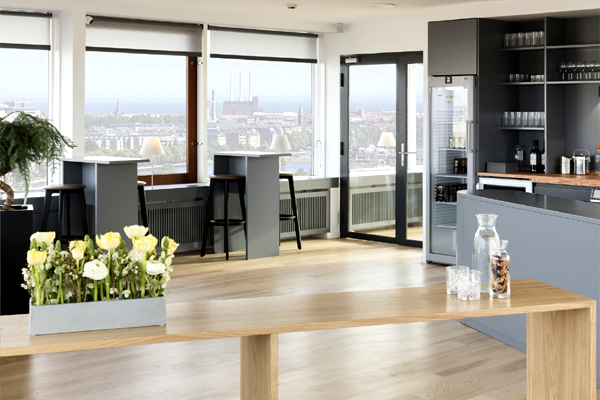 Ordnung+, Frederiksberg C, Copenhagen
Ordnung.nu will open January 1, 2018, their second exclusive category+ shared office community with 200 offices and co-working stations on the three top floors of the former insurance company's domicile Codanhus on Frederiksberg C in the heart of Copenhagen City.
The co-working department is placed on the penthouse floor with a breathtaking panoramic view all over the city. The brand new workstations are designed to attract international entrepreneurs and businesses in particular. ●

Read more:
Cnbc.com: Coworking spaces aren't just for entrepreneurs anymore
Businessnewsdaily.com: Is a Co-Working Space Right for Your Small Business
Nbcnews.com: How Using a Co-Working Space Changed the Way I Think About Productivity
Matchoffice.com: Find shared offices, busness centers and co-working spaces around the world