The global coworking trend and spirit continues its tremendous breakthrough and success with a more extensive selection of exciting, creatively designed coworking environments to choose from than ever. (Photo: UMA Workspace)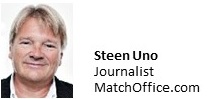 The coworking waves continued in 2018 their magnificent rollings also into brand new locations. Cafes and restaurants all around the world grabbed their chance to traffic their half-empty rooms in the daytime with happy coworking enthusiasts.
The coworking's abilities to get people to find and work together in new ways - across all professional boundaries and sectors, company size and location - will expand this year, including hotel lobbies, shopping malls, and similar suitable places, experts expect.
Shared workspaces and environments bring together people with different backgrounds, ideas, approaches and support entrepreneurs in developing more creative, viable ideas and solutions.
For these start-uppers, the most significant challenges are usually to dispose of their time correctly, maintain motivation and the right levels of productivity through an entire working week. The good coworking environment can support them - it´s much easier to keep focus outside the home office.
MatchOffice News has put together a checklist of 10 super useful tips on how to get started finding your new coworking desk and base that will be able to match your individual needs:


1. Where do you want to work
The location might be crucial for your upcoming workstation - location facing your residence, your customers, co-workers, and cooperative relationships, etc.. Identify where it is best for you to post your future coworking headquarters. Note that the larger coworking companies have many different locations that you´ll be subscripted to access.
2. What are your needs
Identify how your future coworking workplace should be. Will you need a daily office, perhaps a representative domicile where you can arrange business meetings? Or are you just looking for a little outside the home office and a work lounge to work from time to time - possibly on a flexible day pass to one or perhaps more coworking locations?
3. Give it a try
Appoint a free working day on a so-called day pass at the coworking providers you might have picked out as impressive and potential workstations. Test thoroughly whether you immediately feel that you can thrive with the social atmosphere and team spirit of the location, but also with the environment's interior design, sound and lighting conditions, and other technical facilities.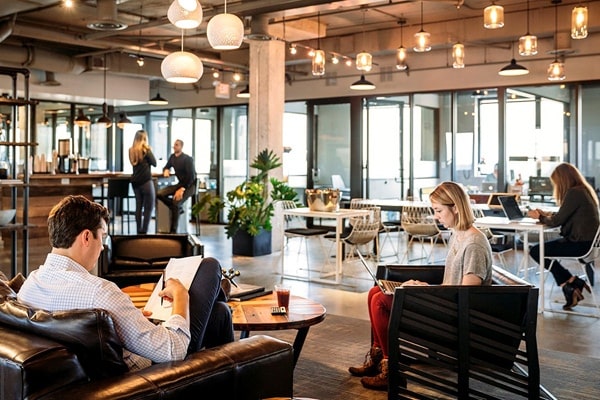 The social dimension is one of the main reasons why you look for a coworking
environment - but the options of creative interiors, room, and furniture design
are numerous in today's varied selections of very exciting coworking spaces.

4. Check out tools and devices
Check how all IT and other tools and devices will correspond with your needs - internet speed, printers, espresso machine, etc. - but also meeting and conference rooms, conversation and quiet zones of the location, which you will inevitably make use of in your future workflow.
5. Do you like the interior
Space and interior designs are usually impressive features of a coworking environment. Are you thriving, inspired and working best in colorful environments with different room division and furniture arrangements or in traditional regular office areas? Today's selections of coworking spaces have never been broader and more varied.
6. The network environment
The social dimension is one of the main reasons why you are looking for a coworking environment. But social sphere, inspiration, and diversion are several things: If it's rigorous professional networking you are reaching for, you should give priority to a coworking space that targets exactly your industry and business interests.
7. Don´t forget the events calendar
Besides the valuable daily networking with the other coworkers of the location, you should profit socially and professionally from the events of all kinds, which most coworking providers continuously arrange and offer their tenants. Don´t forget to check the location´s events calendar.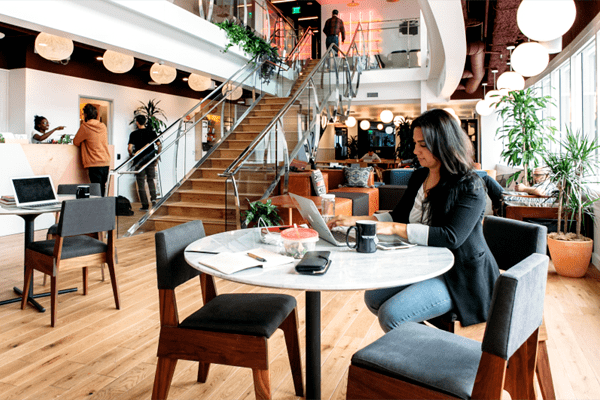 Do you thrive, be inspired or work best in colorful environments with different room divisions
and furniture or in traditional office spaces? Today's selections of coworking environments
have never been more significant and varied.
8. Space to grow
If you have ambitions to grow, develop and expand your business, you should already consider the possibilities of larger workspaces in the location. In a few months, you might need more workstations - maybe even a separate office space. Be prepared to take action from the start.
9. What pays off best
If you are a start-up or entrepreneur, the monthly rent could be a factor in your budget. Coworking spaces in European cities typically cost 3-500 EUR per month, but initially, you might be able to cope with a day pass or two (from about 15 EUR) with access to exciting coworking environments that can put your business on the right track. Remember that most prices are subjects to negotiation.
10. How do you commit
Short rental terms are one of the great benefits of opting for the coworking environment. Unlike traditional office rentals, you can often tie up your coworking space for just one or two months. The major coworking providers often operate with three-month contracts which are automatically renewed until terminated. ●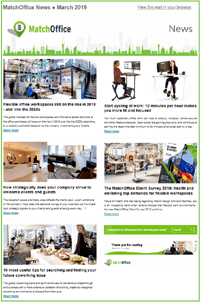 Read more:
Lifehacker.com: The Beginner's Guide to Coworking
Coworker.com: How to find the best coworking space for your needs
Entrepreneur.com: How to Choose the Best Coworking Space for Your Startup
MatchOffice.com: Here you´ll find your future coworking or serviced office spaces